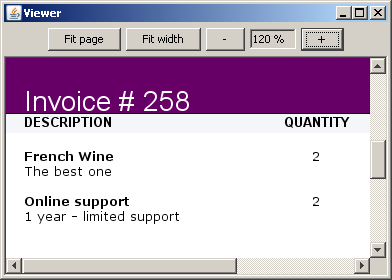 A simple API
Our goal is to provide an easy-to-use and stable API. For example, to load and display a spreadsheet document, you only need the few lines below:

final OpenDocument doc = new OpenDocument();
doc.loadFrom("invoice.ods");

// Show time !
final JFrame f = new JFrame("Invoice Viewer");
ODSViewerPanel viewer = new ODSViewerPanel(doc);
f.setContentPane(viewer);
f.pack();
f.setVisible(true);
Java2html
Need help?
If you need to find quiclky a documentation, an answer or a tutorial, just use our custom search: